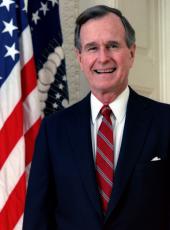 Letter to Congressional Leaders Transmitting a Report Pursuant to the Resolution Authorizing the Use of Force Against Iraq
Dear Mr. Speaker: (Dear Mr. President:)
Pursuant to section 2(b) of the Authorization for Use of Military Force Against Iraq Resolution (H.J. Res. 77, Public Law 102 - 1), I have concluded that:
1. the United States has used all appropriate diplomatic and other peaceful means to obtain compliance by Iraq with U.N. Security Council Resolutions 660, 661, 662, 664, 665, 666, 667, 669, 670, 674, 677, and 678; and
2. that those efforts have not been and would not be successful in obtaining such compliance.
Enclosed is a report that supports my decision.
Sincerely,
George Bush
Note: Identical letters were sent to Thomas S. Foley, Speaker of the House of Representatives; Robert C. Byrd, President pro tempore of the Senate; George J. Mitchell, Senate majority leader; Robert Dole, Senate Republican leader; and Robert H. Michel, House Republican leader.
George Bush, Letter to Congressional Leaders Transmitting a Report Pursuant to the Resolution Authorizing the Use of Force Against Iraq Online by Gerhard Peters and John T. Woolley, The American Presidency Project https://www.presidency.ucsb.edu/node/265752