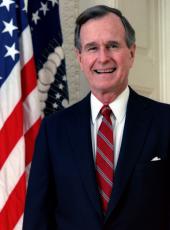 Letter to Congressional Leaders Reporting on Restrictions on Air Traffic To or From Libya
Dear Mr. Speaker: (Dear Mr. President:)
I have issued an Executive order (copy enclosed) entitled "Barring Overflight, Takeoff, and Landing of Aircraft Flying to or from Libya," pursuant to my authority under the Constitution and the laws of the United States of America, including the International Emergency Economic Powers Act, as amended (50 U.S.C. 1701, et seq.), the National Emergencies Act (50 U.S.C. 1601, et seq.), section 1114 of the Federal Aviation Act of 1958, as amended (49 U.S.C. App. 1514), section 5 of the United Nations Participation Act of 1945, as amended (22 U.S.C. 287c), and section 301 of title 3 of the United States Code. I am taking this action in implementation of United Nations Security Council Resolution No. 748 of March 31, 1992, and in order to take additional steps pursuant to the national emergency declared in Executive Order No. 12543 of January 7, 1986, in consequence of Libya's refusal to hand over the two men indicted in the explosion of Pan Am Flight 103 over Lockerbie, Scotland, and Libya's continued support for international terrorism. This report is being provided pursuant to section 401(b) of the National Emergencies Act (50 U.S.C. 1641(b)).
Security Council Resolution No. 748 imposes mandatory, multilateral sanctions by member states against Libya, effective April 15, 1992, if certain conditions are not met. Because the United States already maintains a comprehensive embargo against Libya pursuant to Executive Orders Nos. 12543 and 12544, implemented in the Libyan Sanctions Regulations, 31 C.F.R. Part 550, the only provision in Resolution No. 748 requiring implementation in the United States is that containing restrictions on aircraft en route to or from Libya. The Executive order provides that no aircraft may "take off from, land in, or overfly the United States, if the aircraft, as part of the same flight or as a continuation of that flight, is destined to land in or has taken off from the territory of Libya."
U.S. sanctions already cover other measures called for in Resolution No. 748, including its prohibitions on the supply of aircraft and aircraft components; the engineering or maintenance servicing of Libyan aircraft or aircraft components; the certification of airworthiness for Libyan aircraft; the insuring of, or payment of new insurance claims relating to Libyan aircraft; the provision of arms and related materials; the granting of licensing arrangements for the manufacture, maintenance, or production of, or maintenance technology for, arms and related material; and the furnishing of military advisory services. Resolution No. 748 also calls on governments to reduce the number and level of Libyan diplomats in their territory; prevent the operation of Libyan Arab Airlines offices; and deny entry to or expel Libyan nationals who have been denied entry to or expelled from other countries for involvement in terrorist activities.
I have sent the enclosed order fully implementing Resolution No. 748 to the Federal Register for publication.
Sincerely,
George Bush
Note: Identical letters were sent to Thomas S. Foley, Speaker of the House of Representatives, and Dan Quayle, President of the Senate. The Executive order is listed in Appendix E at the end of this volume.
George Bush, Letter to Congressional Leaders Reporting on Restrictions on Air Traffic To or From Libya Online by Gerhard Peters and John T. Woolley, The American Presidency Project https://www.presidency.ucsb.edu/node/266741