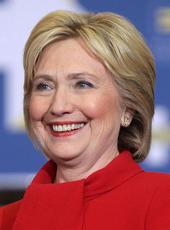 John Podesta Statement on Trump's Disqualifying Foreign Policy
Today, Clinton Campaign Chair John Podesta released the following statement on Donald Trump's disqualifying foreign policy, which was on full display in interviews this morning on Fox & Friends and Morning Joe:
"Every time Donald Trump opens his mouth, he makes it even more clear that he doesn't have the qualifications or the temperament to be our Commander-in-Chief. His interviews this morning were especially revealing, and even unhinged at times.
He once again claimed that he can't share his great foreign policy ideas because he wants unpredictability. He aggressively defended his Muslim ban. He lied about his own record, claiming he opposed the Libya intervention and Iraq War -- both of which he supported at the outset. And he demonstrated once again his dangerous penchant for going ballistic on anyone who disapproves of his proposals. Rather than taking seriously criticism from former Secretary of Defense Robert Gates -- one of America's most well-respected foreign policy minds -- Trump responded with a long tirade attacking Gates. This is the same petulance that was on display when he recently cast doubt on our special relationship with the UK simply because David Cameron and London Mayor Sadiq Khan criticized his proposed Muslim ban, challenging the latter to an IQ test.
This is not how presidents behave. We can't afford to have a Commander-in-Chief who has no understanding of foreign policy, who has no coherent agenda, and who wants to go to war every time someone says a mean thing about him. As Hillary Clinton said yesterday, Donald Trump is simply not qualified for the job he seeks. This is not about ideology -- it's about responsible leadership. Anyone who is serious about our national security, regardless of their party, should not stand with Donald Trump."
Background:
VIDEO: Trump falsely claims he opposed Libya intervention, Iraq War
VIDEO: Trump aggressively defends Muslim Ban
VIDEO: Trump's tirade against former Secretary of Defense Robert Gates
VIDEO: Trump says he has definite foreign policy ideas but he'd rather not tell what they are
Hillary Clinton, John Podesta Statement on Trump's Disqualifying Foreign Policy Online by Gerhard Peters and John T. Woolley, The American Presidency Project https://www.presidency.ucsb.edu/node/318856