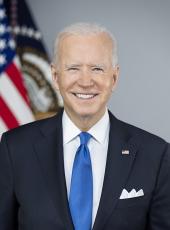 ICYMI: Inflation Down for Sixth Month in a Row; President Biden's Economic Plan Is Working
In the latest sign President Biden's economic plan is working, today's Consumer Price Index showed that prices fell 0.1% last month. This is the sixth month in a row that annual inflation has come down.
Additionally, gas prices are down more than $1.70 from their peak, food prices had the smallest increase in almost two years, and the overall cost of goods is falling.
The President's economic plan is providing more breathing room to American workers and families through aggressive action to lower gas prices, strengthen our supply chains, and build an economy from the bottom up and the middle out.
See key coverage below:
Wall Street Journal: U.S. Inflation Slowed for Sixth Straight Month in December
[Gwynn Guilford, 1/12/23]
The consumer-price index, a measurement of what consumers pay for goods and services, rose at its slowest pace since October 2021, the Labor Department said Thursday. December's annual inflation rate was down from 7.1% in November and well below a 9.1% peak in June.
The New York Times: Consumer Price Gains Continue to Cool
[1/12/23]
The Consumer Price Index climbed 6.5 percent in the year through last month, down from 7.1 percent in the November reading, as prices declined slightly on a monthly basis. The annual inflation rate was the slowest since October 2021, a pullback that came as gas prices dropped and airfares declined.
Washington Post: Inflation slowed further in December, the sixth month in a row
[Rachel Siegel, 1/12/23]
Inflation eased again in December, giving relief to households and businesses nationwide and offering more assurance to economic policymakers that price increases are pulling back after they soared to 40-year highs last year.
Axios: Consumer prices fell in December as inflation continues to cool
[Courtenay Brown, 1/12/23]
U.S. consumers got a reprieve from soaring costs in December: the Consumer Price Index declined on a monthly basis, the first drop since last summer as falling prices for items including gasoline and used cars dragged the overall index down.
Associated Press: US consumer inflation eased again to 6.5% in December
[Christopher Rugaber, 1/12/23]
Inflation declined to 6.5% in December compared with a year earlier, the government said Thursday. It was the sixth straight year-over-year slowdown, down from 7.1% in November. On a monthly basis, prices actually slipped 0.1% from November to December, the first such drop since May 2020.
Reuters: U.S. inflation cooling as consumer prices fall; labor market still tight.
[Lucia Mutikani, 1/12/23]
U.S consumer prices fell for the first time in more than 2-1/2 years in December amid declining prices for gasoline and motor vehicles, offering hope that inflation was now on a sustained downward trend, though the labor market remains tight.
The Hill: Inflation slowed to 6.5 percent in December: CPI
[Karl Evers-Hillstrom, 1/12/23]
Consumer prices slowed further in December, boosting hopes that the worst of red-hot inflation is behind the U.S. The annual inflation rate fell from 7.1 percent in November to 6.5 percent in December, according to the consumer price index, released Thursday morning. Prices fell 0.1 percent last month after rising 0.1 percent in November. Those figures — which are in line with analyst predictions — mark six straight months of receding annual price growth. 
CNBC: Consumer prices fell 0.1% in December, in line with expectation from economists
[Jeff Cox, 1/12/23]
Inflation closed out 2022 in a modest retreat, with consumer prices in December posting their biggest monthly decline since early in the pandemic, the Labor Department reported Thursday.
@byHeatherLong: JUST IN: More good news on inflation -- US inflation was +6.5% in December (y/y), down from 7.1% in Nove[m]ber and 9.1% in June.  In very encouraging news, inflation declined 0.1% in December. Falling gas prices really drove down inflation along w/ used cars & airfare [Tweet, 1/12/23]
@bencasselman: Inflation has slowed markedly on both a year-over-year and month-to-month basis in recent months. [Tweet, 1/12/23]
@scottlincicome: Used cars now down almost 9% YoY. #ItsHappening [Tweet, 1/12/23]
@Neil_Irwin: A simple eyeballing of this chart really tells the story of inflation in 2022. It was a first half of the year story, not a back half of the year story. [Tweet, 1/12/23]
@SteveRattner: Year-over-year, December's CPI cooldown brings us to 6.5% headline and 5.7% core (excluding food & energy) inflation - down from peaks of 9.1% and 6.6%, respectively. It'll take time to reach 2%, but we're moving in the right direction. [Tweet, 1/12/23]
@TheRickWilson: I'm impressed with how much the House GOP has focused on their core issues of gas prices and inflation since taking power...Oh. Wait. [Tweet, 1/12/23]
Joseph R. Biden, ICYMI: Inflation Down for Sixth Month in a Row; President Biden's Economic Plan Is Working Online by Gerhard Peters and John T. Woolley, The American Presidency Project https://www.presidency.ucsb.edu/node/359349