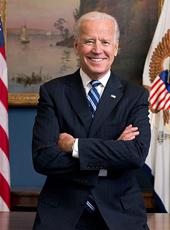 ICYMI: Headlines Highlight President Biden's Plan to Rebuild America
President Biden believes this is the moment to reimagine and rebuild a new American economy. The American Jobs Plan will create millions of good-paying jobs, rebuild our country's infrastructure, and position the United States to out-compete China.
Biden-Harris Infrastructure Program Would Create or Save 15 Million Jobs Over 10 Years, Georgetown University Report Says
"A $1.5 trillion infrastructure program from the Biden-Harris administration would be good medicine to nurse the economic wounds inflicted by the COVID-19 pandemic. It would create or save 15 million jobs over 10 years, according to a new report from the Georgetown University Center on Education and the Workforce (CEW)."
Moody's: The Macroeconomic Consequences of the American Jobs Plan
"The nation has underinvested in infrastructure for decades. This weighs more and more heavily on businesses' competitiveness and the economy's productivity growth and is increasing our vulnerability to climate change."
"With close to 3 million more workers still permanently unemployed as a result of the COVID-19 pandemic, an infrastructure plan that provides new jobs in communities across the country would be particularly effective."
Reuters: Biden infrastructure plan could be big boost for blue-collar America
"President Joe Biden's massive infrastructure plan would create millions of jobs, undoing some of the economic damage inflicted by the coronavirus pandemic, economists said, with lower middle-income workers and minorities possibly benefiting the most."
"CEW estimates the investment would create 8 million jobs for workers with a high school diploma or less and 4.8 million jobs for those with more than a high school diploma but less than a bachelor's degree."
New York Times: Biden Details $2 Trillion Plan to Rebuild Infrastructure and Reshape the Economy
"President Biden introduced a $2 trillion plan on Wednesday to overhaul and upgrade the nation's infrastructure, calling it a transformational effort that could create the "most resilient, innovative economy in the world.""
"But even spread over years, the scale of the proposal underscores how fully Mr. Biden has embraced the opportunity to use federal spending to address longstanding social and economic challenges in a way not seen in a half-century.
Officials said that, if approved, the spending in the plan would end decades of stagnation in federal investment in research and infrastructure — and would return government investment in those areas, as a share of the economy, to its highest levels since the 1960s."
New York Times: Biden Seeks to Use Infrastructure Plan to Address Racial Inequities
"More than a half-century later, President Biden's $2 trillion plan to rebuild aging roads, bridges, rail lines and other foundations of the economy comes with a new twist: hundreds of billions of dollars that administration officials say will help reverse long-running racial disparities in how the government builds, repairs and locates a wide range of physical infrastructure."
Washington Post: Infrastructure plan calls for $80 billion for rail. It could transform passenger service.
"President Biden's infrastructure plan calls for an unprecedented boost in federal aid to the nation's passenger rail system, seeking to address Amtrak's repair backlog, extend service to more cities and modernize the network in the Northeast Corridor."
The Nation: Biden's 'Transformative' Plan Redefines Infrastructure to Include Caregiving
"But the boldest component of the president's agenda is its $400 billion commitment to fund the care infrastructure of a just and humane society."
"The Biden plan acknowledges this reality with proposals to create jobs and raise wages and benefits for care workers. And it does so in language that recognizes an emerging understanding of how investing in the human beings who care for children, seniors, and people with disabilities is just as vital for the economy as investing in roads and bridges."
New York Times: Biden's Plan to Fix America's Internet
"The administration this week set out high-level goals: High-quality internet pipelines should reach every American home, and soon. Taxpayer money shouldn't help finance outdated internet technology. And we should pay less for internet service. Those principles sound simple but are deceptively revolutionary. The plan is essentially a statement that what we're doing now is not working, and the government shouldn't sit by and let the system continue."
"But let me stress what's exciting about the White House plan. It identifies the right problems, declares a worthy mission and demands fewer roadblocks to bridge the best of government with the best of capitalism."
The Daily Yonder: 'Investing in All of America's Places' — Rural Nonprofit Leaders Respond to American Jobs Plan
"President Biden's proposed "American Jobs Plan" contains hundreds of billions of dollars in funding for rural infrastructure, clean energy, job creation, affordable housing, high-speed internet and more. Rural advocates are overwhelmingly positive about the proposal."
NBC News: All carrot, 'no stick' in Biden's affordable housing plan
"More broadly, Biden's proposal would inject $213 billion — more than three times the Housing and Urban Development Department's annual budget of about $60 billion — into developing, maintaining and retrofitting affordable units over the next eight years, including both public projects and lower-rent private residences. That spending would be for both new and existing homes in cities, suburbs and small towns."
"But the housing component of Biden's behemoth transportation-infrastructure-climate-change-housing-and-elder-care proposal envisions communities competing for new pots of money that can be used to fund transportation and other elements to support growth. The concept has bipartisan support on Capitol Hill."
Joseph R. Biden, ICYMI: Headlines Highlight President Biden's Plan to Rebuild America Online by Gerhard Peters and John T. Woolley, The American Presidency Project https://www.presidency.ucsb.edu/node/349368