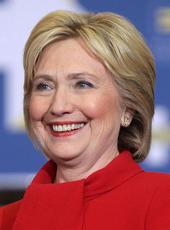 Hillary for America Announces AAPI Leadership Council
Hillary for America announced the launch of its Asian Americans and Pacific Islanders for Hillary Leadership Council– a group of over 150 elected officials, community, and grassroots leaders who will help build a grassroots-driven volunteer team that will help Hillary Clinton engage, energize and organize support in the AAPI community ahead of the caucuses and primaries.
These officials are taking on leadership roles on the heels of the launch of AAPI for Hillary in San Gabriel, California, where Clinton was surrounded by leaders from the community and discussed what's at stake for the AAPI community in this election.
Leadership Council members share Clinton's commitment to raising wages for the middle class, strengthening our nation's infrastructure to create good-paying jobs, defending and enhancing the Affordable Care Act, ensuring that cost is not a barrier for students going to college, reforming our broken immigration system and much more. You can learn more about Clinton's agenda.
"Asian Americans and Pacific Islanders are the fastest growing racial demographic in the country, yet have too often been denied a seat at the table," said Congresswoman and Congressional Asian Pacific American Caucus (CAPAC) Chair Judy Chu. "With the launch of her National AAPI Leadership Council, Hillary Clinton is recognizing the importance of engaging with our community in a way that no other candidate has. Given her policy priorities and outreach, I am confident that AAPIs will have an unprecedented voice and ear in the Hillary Clinton White House."
"I am thrilled to join Hillary Clinton's National AAPI Leadership Council," said Congresswoman Grace Meng (D-NY). "Hillary has a great track record of fighting for Asian American and Pacific Islanders, and as President, she will do even more to protect and promote the AAPI community. I look forward to working with her to accomplish this."
"Hillary Clinton is a smart, conscientious, and an inspiring leader," said former Ambassador Gary Locke. "She values diversity and has always been supportive of and sensitive to the needs of the AAPI community. She is everything we want in a President and she is the leader we need in these complex and troubling times."
"Hillary Clinton is the candidate we need. She has a proven track record of the compassion and strength needed to unite leaders across the country to solve the problems that affect all our communities," said Shekar Narasimhan. "I am more than grateful to serve on the National AAPI Leadership Council of the most qualified candidate for the presidency."
Over the course of the campaign, the AAPI Leadership Council will continue to expand. Joining the AAPI for Hillary Leadership Council today:
?U.S. Senator Mazie K. Hirono, Hawaii
U.S. Representative Ami Bera, California
U.S. Representative Madeleine Bordallo, Guam
U.S. Representative Judy Chu, California
U.S. Representative Tammy Duckworth, Illinois
U.S. Representative Mike Honda, California
U.S. Representative Ted Lieu, California
U.S. Representative Doris Matsui, California
U.S. Representative Grace Meng, New York
U.S. Representative Gregorio Sablan, Northern Mariana Islands
U.S. Representative Bobby Scott, Virginia
U.S. Representative Mark Takai, Hawaii
U.S. Representative Mark Takano, California
The Honorable Rob Bonta, California
The Honorable Ray Buenaventura, California
The Honorable Christopher Cabaldon, California
The Honorable Wilma Chan, California
The Honorable Ed Chau, California
The Honorable John Chiang, California
The Honorable David Chiu, California
The Honorable Mike Eng, California
The Honorable Mike Fong, California
The Honorable Colleen Hanabusa, Hawaii
The Honorable Mark Keam, Virginia
The Honorable Kevin Kim, New York
The Honorable Ron Kim, New York
The Honorable Ron Kouchi, Hawaii
The Honorable Edwin Lee, California
The Honorable Susan C. Lee, Maryland
The Honorable Henry Lo, California
The Honorable Gary Locke, Washington
The Honorable David Louie, Hawaii
The Honorable Polly Low, California
The Honorable Chris Lu, Washington, D.C.
The Honorable Sylvia J. Luke, Hawaii
The Honorable Fiona Ma, California
The Honorable Victor Manalo, California
The Honorable Norman Mineta, California
The Honorable Al Muratsuchi, California
The Honorable Richard Pan, California
The Honorable Mona Pasquil, California
The Honorable Jason Pu, California
The Honorable Mark Pulido, California
The Honorable Gordan Quan, Texas
The Honorable Bede Ramcharan, Texas
The Honorable Steven Rao, North Carolina
The Honorable David E. Ryu, California
The Honorable Scott Saiki, Hawaii
The Honorable Gerri Schroder, Nevada
The Honorable Osman Siddique, Virginia
The Honorable Jill Tokuda, Hawaii
The Honorable Shan Tsutsui, Hawaii
The Honorable Michelle Wu, Massachusetts
The Honorable Gene Wu, Texas
Community Leader Sefa Aina, California
Community Leader Anand Anandalingam, American Abroad
Community Leader, Som Baccam, Iowa
Community Leader Ginny Barahona, New Jersey
Community Leader Gene Benavides, California
Community Leader Vida Benavides, California
Community Leader Ajay Bhutoria, California
Community Leader Regine Biscoe Lee, Guam
Community Leader Irene Bueno, Washington, D.C.
Community Leader Gloria Caoile, Nevada
Community Leader Susan Castner, Arizona
Community Leader Rashid Chaudary, Illinois
Community Leader Gregory Cendana, Washington, D.C.
Community Leader Victoria Chan, California
Community Leader Yee Chang, Washington, D.C.
Community Leader Leng Leng Chancey, Georgia
Community Leader Martha Choe, Washington
Community Leader Yen Chou, New York
Community Leader Anna Chu, Washington, D.C.
Community Leader Alex De Ocampo, California
Community Leader Ankit Desai, Washington, D.C.
Community Leader Neha Dewan, New York
Community Leader Shefali Razdan Duggal, California
Community Leader Vincent Eng, Washington, D.C.
Community Leader Mieke Eoyang, Washington, D.C.
Community Leader Glen S. Fukushima, California
Community Leader Robert Gee, Virginia
Community Leader Margie Gonzales, Nevada
Community Leader Raj Goyle, New York
Community Leader Junelle Cavero Harnal, Arizona
Community Leader Tai Heng-Cheng, New York
Community Leader Irene Hirano Inouye, Washington, D.C.
Community Leader Tim Hur, Georgia
Community Leader Frank Islam, Washington, D.C.
Community Leader Krystal Ka'ai, Washington, D.C.
Community Leader Keith Kamisugi, California
Community Leader Channapha Khamvongsa, Washington, D.C.
Community Leader Amed Khan, New York
Community Leader Kamran Khan, Illinois
Community Leader Mo Khan, Illinois
Community Leader Zareen Khan, Illinois
Community Leader Mark Kim, New York
Community Leader Gene Kim, California
Community Leader Jongsun Kim, Virginia
Community Leader Harold Koh, Connecticut
Community Leader Howard Koh, Massachusetts
Community Leader Dave Kumar, Washington, D.C.
Community Leader Carolyn Wu Kurtzig, American Abroad
Community Leader Jannie Lau, Pennsylvania
Community Leader MaiLien Le-Casseso, Maryland
Community Leader Otto Lee, California
Community Leader Mary Lee Chin, Colorado
Community Leader Rozita Lee, Nevada
Community Leader Sunita Leeds, Washington, D.C.
Community Leader Nicholas Lepham, Washington, D.C.
Community Leader Tana Lepule, California
Community Leader Ginger Lew, Florida
Community Leader Loida Lewis, New York
Community Leader Timothy Lim, Washington, D.C.
Community Leader Betsy Lin, Hawaii
Community Leader Pat Loui, Hawaii
Community Leader Evan Louie, Nevada
Community Leader Steven Ma, California
Community Leader John Maa, California
Community Leader Dr. Asif Mahmood, California
Community Leader Charmaine Manansala, California
Community Leader Ying McGuire, Texas
Community Leader Shaalu Mehra, California
Community Leader Parag Mehta, Washington, D.C.
Community Leader Madalene Mielke, Washington, D.C.
Community Leader Gwen Migita, Washington
Community Leader Mona G. Mohib, Washington, D.C.
Community Leader Hanadi Nadeem, Nevada
Community Leader Loren Nadres, Washington, D.C.
Community Leader Debra Nakatomi, California
Community Leader Shekar Narasimhan, Virginia
Community Leader Irene Natividad, Washington, D.C.
Community Leader, Dr. Thun Thang Nguyen, California
Community Leader Amanda Nguyen, Washington, D.C.
Community Leader Jadine Nielsen, Hawaii
Community Leader Elena Ong, California
Community Leader Erin Oshiro, Washington, D.C.
Community Leader Chul Pak, New York
Community Leader Won Palisoul, New York
Community Leader Deven Parekh, New York
Community Leader Sanjita Pradhan, Iowa
Community Leader Mindy Prugnaud, American Abroad
Community Leader Carrie Pugh, Washington, D.C.
Community Leader Courtni Pugh, California
Community Leader Gautam Raghavan, Washington, D.C.
Community Leader Melissa Ramoso, California
Community Leader Lorna May Ho Randlett, California
Community Leader Rini Sampath, California
Community Leader Shivanthi Sathanandan, Minnesota
Community Leader Reshma Saujani, New York
Community Leader Smita Shah, Illinois
Community Leader Ruby Shang, New York
Community Leader Linda Shim, Washington, D.C.
Community Leader Laura Shin, Washington, D.C.
Community Leader Vicki Shu, California
Community Leader Arshi Siddiqui, Washington, D.C.
Community Leader Shamina Singh, New York
Community Leader Dewita Soeharjono, Virginia
Community Leader Crystal Strait, California
Community Leader Dilawar A. Syed, California
Community Leader Trung Ta, California
Community Leader Naomi Tacuyan Underwood, Washington, D.C.
Major General Tony Taguba (Retired), Washington, D.C.
Community Leader Rupa Tak, Virginia
Community Leader Mahinder Tak, Maryland
Community Leader Donna Tanoue, Hawaii
Community Leader Mustafa Tameez, Texas
Community Leader Paul Tiao, Maryland
Community Leader Mei-Mei Tuan, New Jersey
Community Leader Alis Wang, Virginia
Community Leader Leverett Wing, Massachusetts
Community Leader Bill Wong, California
Community Leader Dr. Mumu Xu, Maryland
Community Leader Alvina Yeh, Washington, D.C.
Community Leader Dr. Sophia Yen, California
Community Leader Imaad Zuberi, California
Hillary Clinton, Hillary for America Announces AAPI Leadership Council Online by Gerhard Peters and John T. Woolley, The American Presidency Project https://www.presidency.ucsb.edu/node/318718