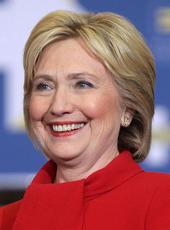 Hillary Clinton Campaign Press Release - I Work For Hillary Clinton in a March Primary State. Here's What We're Building Nationwide
Hi there. I'm Brad Komar. I live in a place that isn't Brooklyn, Iowa, New Hampshire, South Carolina, or Nevada, and I work for Hillary Clinton.
In fact, I'm all the way out in Colorado, getting the campaign ready for Super Tuesday—and I'm not the only one. There are staff like me in every single state that votes on March 1.
Now usually, we try to stay out of the news. This campaign is about you—and how Hillary has the best plans and experience to help the families we talk to every single day. But there was a story yesterday that seemed to imply that we hadn't already been laying groundwork beyond the four earliest states—and that's simply not true.
Working in every Super Tuesday state (and beyond)
We're a campaign, and we're here to win, so we obviously don't want to telegraph our game plan. Across the country, we've got more than 100,000 volunteers who have made more than 8 million voter contact attempts nationwide.
What we're building nationwide isn't about structure or process—it's about the people on the ground and the great work they do every day to elect Hillary Clinton as our 45th president. People like ...
Andrea Nemecek and Alfred Eze, who led numerous phone banks in Minneapolis?Saint Paul and Rochester, Minnesota, this past weekend. They got 100 volunteers who together made 8,000 calls and door knocks.
Kathleen Coffeen, an organizer in Tennessee who held three organizing meetings in the past two weeks with more than 50 people at each. Our Tennessee team has made thousands of calls on behalf of the campaign, and they've held eight surrogate events (and a couple with the boss herself!).
Our Oklahoma team, who have recurring phone banks running in Oklahoma City, hosted a huge debate watch party and a Tulsa organizing meeting tonight that has our largest RSVP list yet of any event in Oklahoma. In Tulsa!
I could keep going with a list of great stories from the field (it's practically endless), but suffice it to say: It's a shame to see some folks overlook the work we're putting in.
But that's OK. Like I said: This race isn't about us; it's about you. So we'll keep pounding the pavement, talking to you and your families about what keeps you up at night and how Hillary's fighting for you. Once the focus starts to shift from Iowa and Nevada and from our friends in the early states to the 11 states that will vote or caucus on March 1, we'll still be here. And hey—if you're in Colorado (or want to swing through): We're always looking for help.
Hillary Clinton, Hillary Clinton Campaign Press Release - I Work For Hillary Clinton in a March Primary State. Here's What We're Building Nationwide Online by Gerhard Peters and John T. Woolley, The American Presidency Project https://www.presidency.ucsb.edu/node/317141