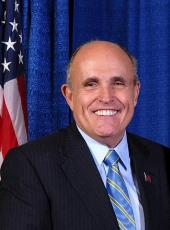 Giuliani Campaign Press Release - NY GOP Leaders Bill Powers and Guy Molinari Endorse Giuliani
The Rudy Giuliani Presidential Exploratory Committee today announced former New York State Republican Party Chairman Bill Powers and former Congressman Guy Molinari will chair Mayor Giuliani's New York statewide efforts. Powers and Molinari are established Republican Party leaders who have both worked on behalf of previous presidential candidates in New York.
"During my time as State Party Chairman I saw the incredible progress Rudy Giuliani made turning conservative principles into real results. He's a problem solver who made New York City livable again — a place where families can feel safe and secure, entrepreneurs can invest in the future, and small businesses can grow," former New York State Republican Chairman Bill Powers said.
Former Congressman Guy Molinari added, "What our country needs now more than ever is a proven leader who has a track record of getting results. I've had the opportunity to work with Mayor Giuliani and have seen up close his ability to tackle a difficult challenge and come up with a solution that works. When Rudy Giuliani took office, more than one out of every seven New Yorkers was on welfare. Under his leadership, the City cut welfare rolls by more than 640,000. I'm confident that after seeing what Rudy Giuliani has been able to achieve for New York, he's the right man for the job."
Mayor Rudy Giuliani thanked Powers and Molinari for their support. "It's an honor to have the support of two New York Republican leaders that I have had the pleasure of working with over the years. Bill and Guy are not only trusted advisors, but good friends and I am fortunate to have them as part of the team."
Rudy Giuliani Presidential Exploratory Committee New York Leadership Co-Chairmen
Bill Powers. Mr. Powers is the former Chairman of the New York Republican State Committee, serving from 1991 to 2001. In just three years as Chairman, Mr. Powers rebuilt the Republican Party in New York using a strong grassroots strategy and assembling "the most aggressive fundraising machine in memory." (New York Times, January 18, 1998). Upon becoming Chairman, Mr. Powers inherited a party with a $1.5 million debt and no fundraising ability. Republicans controlled only 19 of 62 counties statewide, had no elected Republican mayors in the State's 6 largest cities, and held no elected statewide offices. Under his direction as Chairman, he rebuilt the Republican Party in New York State. As a result, Republicans had a majority in 43 of 62 counties, had elected Republican mayors in 4 of the 6 largest cities – including the 1993 election and 1997 re-election of Rudy Giuliani as Mayor of the City of New York, despite a 6 to 1 Democratic to Republican voter registration ratio in New York City.
In recognition of his leadership and management accomplishments in New York State, the Republican National Committee asked Mr. Powers to serve as Chairman of the State Chairman's Advisory Committee. A former US Marine, Powers has lectured at the Harvard University Kennedy School of Government and was appointed by President George W. Bush to the Federal Home Mortgage Corporation (Freddie Mac).
Guy Molinari. Mr. Molinari is the only New York public servant to serve at all three levels of government: as a New York Assemblyman (1975-1980); as a United States Congressman (1981-1989); and as Borough President of Staten Island (1990-2001). A close friend and Advisor to President George H.W. Bush, Mr. Molinari was the New York State Chairman of President Bush's successful 1988 Presidential Campaign. A former Marine, Mr. Molinari is credited as the first person to suggest that former U.S. attorney Rudolph W. Giuliani would be an effective Mayor for New York City.
Mr. Molinari recruited Mr. Giuliani and joined forces with him to start a renaissance in New York City. Mr. Molinari served as Chief Campaign Advisor for Mayor Giuliani in 1989, 1993 and 1997. He was also the former Mayor's Campaign Chairman for Staten Island through each election.
Rudy Giuliani, Giuliani Campaign Press Release - NY GOP Leaders Bill Powers and Guy Molinari Endorse Giuliani Online by Gerhard Peters and John T. Woolley, The American Presidency Project https://www.presidency.ucsb.edu/node/295433