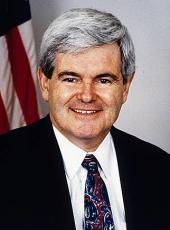 Gingrich Campaign Press Release - Cheney, Giuliani Offer Praise For Gingrich
In an interview last night with CNN's Piers Morgan, former New York Mayor Rudy Giuliani offered strong praise for Newt saying his appeal to Reagan Democrats could make him the stronger candidate.
"My gut tells me right now as I look at it that Gingrich might actually be the stronger candidate, because I think he can make a broader connection than Mitt Romney to those Reagan Democrats," Giuliani said on CNN's "Piers Morgan Tonight."

He continued, "You won't have this barrier of possible elitism that I think Obama could exploit pretty effectively."
Also on CNN last night, former Vice President Dick Cheney said it would be a mistake to underestimate Newt, noting his perseverance in creating the first Republican majority in the U.S. House in 40 years.
"The thing I remember about Newt, we came to Congress together at the same time, '78, and when Newt showed up, he said, 'We can become the majority. We can take back the House of Representatives,'" Cheney said on CNN's "Erin Burnett OutFront."

He continued, "We hadn't had the House since the 1940s. And initially, none of us believed it, but he was persistent. And he was tenacious. He kept it up and kept it up and kept it up. And finally by '94, he's the newly elected speaker of the House of Representatives with a Republican majority."
Newt Gingrich, Gingrich Campaign Press Release - Cheney, Giuliani Offer Praise For Gingrich Online by Gerhard Peters and John T. Woolley, The American Presidency Project https://www.presidency.ucsb.edu/node/298211