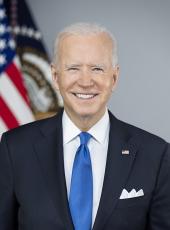 George Lopez and Arizona Community Leaders Tout Biden's Plans to Lift Up and Unite Arizona's Latino Community
Yesterday, Biden for President hosted the Arizona edition of "The Luchadores" — a virtual conversation about what's at stake in this election for the Latino community. Moderated by campaign senior advisor Cristóbal Alex, a group of local leaders sat down with actor George Lopez to talk about their personal experiences growing up as Latino men in this country, how they believe Joe Biden and Kamala Harris will help move their communities forward, and why it's so important for Arizonans to vote early.
"We have to be a voice for the people who can't vote," George Lopez said. He talked about what Arizonans are voting to protect for the next four years: access to affordable and reliable health care, the dignity of work, and our values as a nation of immigrants. He also shared why he believes Joe Biden and Kamala Harris are the best candidates for the job, and why the American people should come together around their vision for a stronger, more united country.
"Joe Biden is fantastic. Joe Biden is a great dude," Lopez added. "So we can't give up. We don't have to agree — we just have to be able to be part of the political system...We have to stand up right now, because four more years of what's going on right now, we're not going to be able to stand that."
Danny Ortega, a Phoenix attorney, talked about how he grew up watching his father go to work every single day, even when he was sick, and how it shaped his understanding of the racial inequities in our workplaces and health care systems. Ortega said one of the most important things Joe Biden will do is fight to remove those barriers, so that Arizona working families have the support and protections they need to thrive.
"It's about fighting systemic racism throughout this country in which we are not treated as equals....equal opportunity employment is extremely important because at the end of the day, the only way we're going to provide for our families is through hard work. And when we're not treated equally, when we're not paid the wages that everybody's getting paid, when we don't get advancement, when we don't get the basic benefits that others do, there's something wrong with this equation," Ortega said. "Joe Biden understands what it means to fight racism."
Santa Cruz County Supervisor Rudy Molera talked about the multiple crises Arizonans are facing right now: the pandemic, the economic crisis, and racism. In all three cases, Donald Trump has failed to respond or has made the crises worse, whereas Joe Biden has a plan to build our country back better.
"I know Mr. Biden has plans — he's got a plan to listen to scientists, and he's going to take care of this pandemic the way he should, professionally. It's not a joke, the way it's been handled. And he's going to provide the unity we need. I think he and Kamala are going to bring back that unity. We live in the United States of America, and it's not united right now, and it's sad. It's heartbreaking," Molera said.
Tomas Robles, executive director of LUCHA, talked about Vice President Biden's credentials as a true leader, one who will lift up the American people instead of sowing hatred and division.
"Too many times we think that the model that Trump provides is a symbol of machismo or being powerful," said Robles. "For us, a leader is somebody who will stand up and say 'yeah, this is a pandemic. I will listen to the scientists, I will understand ways to help our people out. I will understand that our working people here in the U.S., whether you're Black, white, Latino, don't have enough money to put food on the table."
Robles also reminded viewers that they can make their voices heard, right now. "Election Day has already started in Arizona. Election Day is right now. You can go out and vote, you can go and mail out your ballot, you can go to an early voting site — you can wait till November 3rd, but you can do it now. Fill it out, vote for Biden."
Tony Reyes, Chairman of the Yuma County Board of Supervisors, also talked how Trump has tried to divide the Latino community, and why it's so important that Arizonans vote early this year— for their families, for their communities, and for their futures.
"We want people to make change happen, and that is through the vote. That is how in this country, throughout generations, change has happened. So we need change right now, so we need you all to get motivated and get out there and vote! That is the way we're going to change things."
Joseph R. Biden, George Lopez and Arizona Community Leaders Tout Biden's Plans to Lift Up and Unite Arizona's Latino Community Online by Gerhard Peters and John T. Woolley, The American Presidency Project https://www.presidency.ucsb.edu/node/347105