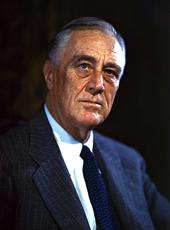 Executive Order 8983 Establishing a Commission to Investigate the Pearl Harbor Attack.
Pursuant to the authority in me vested by the Constitution of the United States, I hereby appoint as a commission to ascertain and report the facts relating to the attack made by Japanese armed forces upon the Territory of Hawaii on December 7, 1941, the following:Associate Justice Owen j. Roberts, United States Supreme Court,
Chairman;
Admiral William H. Standley, United States Navy, Retired; Rear Admiral Joseph M. Reeves, United States Navy, Retired; Major General Frank R. McCoy, United States Army, Retired; Brigadier General Joseph T. McNarney, United States Army.
The purposes of the required inquiry and report are to provide bases for sound decisions whether any derelictions of duty or errors of judgment on the part of United States Army or Navy personnel contributed to such successes as were achieved by the enemy on the occasion mentioned, and if so, what these derelictions or errors were, and who were responsible therefor.
The Commission will convene at the call of its Chairman at Washington, D. C, will thereafter proceed with its professional and clerical assistants to Honolulu, Territory of Hawaii, and any other places it may deem necessary to visit for the completion of its inquiry. It will then return to Washington, D. C., and submit its report direct to the President of the United States.
The Commission is empowered to prescribe its own procedure, to employ such professional and clerical assistants as it may deem necessary, to fix the compensation and allowances of such assistants, to incur all necessary expenses for services and supplies, and to direct such travel of members and employees at public expense as it may deem necessary in the accomplishment of its mission. Each of the members of the Commission and each of its professional assistants, including civilian advisers and any Army, Navy, and Marine Corps officers so employed, detailed, or assigned shall receive payment of his actual and necessary expenses for transportation, and in addition and in lieu of all other allowances for expenses while absent from the place of his residence or station in connection with the business of the Commission, a per diem allowance of twenty-five dollars. All of the expenses of the Commission shall be paid by Army disbursing officers from allocations to be made to the War Department for that purpose from the Emergency Fund for the President.
All executive officers and agencies of the United States are directed to furnish the Commission such facilities, services, and cooperation as it may request of them from time to time.
Franklin D. Roosevelt, Executive Order 8983 Establishing a Commission to Investigate the Pearl Harbor Attack. Online by Gerhard Peters and John T. Woolley, The American Presidency Project https://www.presidency.ucsb.edu/node/210490