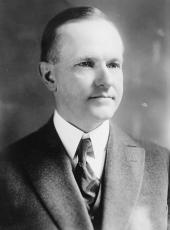 Excerpts of the President's News Conference
I think that the invitation has been received from the League about a conference with nations to consider the reservations that we have proposed to our proposal to adhere to the statute of the Court. Of course it was a most courteous thing for the League to do, to extend that invitation to us, as it was a discussion of some matter in which we have some interest, and quite properly they would inquire whether it was a matter that we wanted to discuss. As far as I have been able to determine, I don't see any necessity for any discussion on our part. The reservations speak for themselves. So that I don't expect or antici-pate—unless some reason appears that I don't expect to appear on further study—that we should consider it necessary to send any representative. We are dealing, as I have indicated before, directly with the nations concerned. We are adhering to the Protocol, which is the technical name of the Statute that created the Court and which is the action of forty-eight different nations. The League has nothing to do with it and can't do anything with it if it wanted to. The only persons that can make any change in it are the forty-eight nations, so that it would be our attitude that we would deal with them, rather than to undertake to deal through any other channel.

* * * * * * *
I think it has already been announced that Colonel Carmi Thompson will undertake to go to the Philippines for me. It is possible he may stop at Hawaii, and perhaps at Guam, though that hasn't been finally determined on. It seems to me that there was a somewhat sentimental propriety in sending him. He is, as you know, the National Commander of the Spanish War Veterans. It was through their activities that we came into possession of the Philippine Islands. He also is a very warm friend of General Wood. He has known him and been associated with him, and of course it goes without saying that it is entirely a friendly mission. General Wood has been stationed there for nearly five years. He has had little opportunity to come to the States and I thought it would be a somewhat graceful thing on our part if we could send someone down there to confer with him and give him such reassurance as he may need and indicate to him personally the desire of the Government up here to support him in every way. Then I would like to have a survey—it couldn't be quite called an investiga-tion—of what we are doing, what progress we are making in the Islands, what progress the Filipino people are making—because that is synonymous. I want to know how education is progressing, what is being done in the way of sanitation, policing; also the financial condition of the Islands as relates to their government and the economic condition as it relates to private enterprise there, and in general to make a survey and inspection to see what we can do to better conditions there.
Source: "The Talkative President: The Off-the-Record Press Conferences of Calvin Coolidge". eds. Howard H. Quint & Robert H. Ferrell. The University Massachusetts Press. 1964.
Calvin Coolidge, Excerpts of the President's News Conference Online by Gerhard Peters and John T. Woolley, The American Presidency Project https://www.presidency.ucsb.edu/node/349148