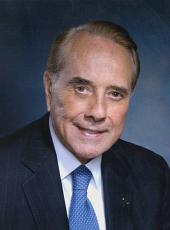 Dole Campaign Press Release - Dole Campaign Wins Endorsement of Colorado Voters
The Dole for President campaign today announced the endorsement of two dozen prominent veterans in Colorado. The announcement was made during a wreath laying ceremony at the Colorado War Memorial in Denver attended by the veterans and Robin Dole, daughter of presidential candidate Bob Dole.
General Jack Forrest, who will be Chairman of the Dole for President Veterans Coalition in Colorado, praised the candidacy of Senator Dole. General Forrest said that "as decorated war hero and as distinguished senator, Bob Dole has served on the front lines in the battle to keep America strong and safe. I'm proud to be part of his campaign team and look forward to helping Bob Dole become the next President of the United States."
"Bob Dole served in the armed forces," said Colonel Robert Tonner. "He knows what it means to be a commander, and he has the experience to be a World leader. And he knows the unique concerns of veterans because he spent a long time in rehabilitation after World War II."
"I'm a devoted fan of his," said Colonel Don D'Amico. "I believe he's a very dedicated and honest person who has fought for his country. He'll be a good candidate and President."
Scott Reed, national Dole Campaign Manager, welcomed the endorsements. "We're honored. to have the support of these patriotic veterans from all branches of the armed services. They've made the immense personal sacrifices to defend our country. As President, Bob Dole will keep faith with his fellow veterans and will vigorously reassert American interests wherever and whatever they are challenged around the world."
Dole remains an overwhelming favorite to win the GOP Presidential nomination. The most recent national surveys show Dole leading the Republican field by a huge margin and as the only GOP candidate with the support to beat President Clinton. The latest CNN/USA Today poll, shows Dole leading the Republican field with 55 percent of the vote -- 43 percentage points ahead of his nearest rival.
COLORADO VETERANS SUPPORTING BOB DOLE FOR PRESIDENT
Lieutenant General Jack Forrest, Dole Colorado Veteran Coalition Chairman
Colonel Robert Tanner
Captain Carl Williams
Technician -- 5th Harold Meyer
Colonel Don D'Amico
Lieutenant Hank Brown
Lieutenant Thomas Frankmore
Seaman Bob Owens
Sergeant Sean Tonner
Airman 1st Class Mason Carpenter
Lieutenant Commander Phil Pankey
Colonel Ed Bland
Lieutenant Colonel Robert Bolton
Lieutenant Edward Clarkson
General James Hartinger
Lieutenant Colonel J.J. Inman
Lieutenant Colonel J.W. Kuykendall
Lieutenant Colonel Tom Leib
Colonel Joseph Potter
Lieutenant Colonel Jack Remele
Major Michael Royse
Colonel John Stewart
Specialist Dave Anderson
Sergeant Ed McCluskey
Sergeant David Caldiero
Robert Dole, Dole Campaign Press Release - Dole Campaign Wins Endorsement of Colorado Voters Online by Gerhard Peters and John T. Woolley, The American Presidency Project https://www.presidency.ucsb.edu/node/315606