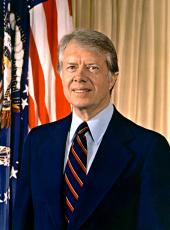 Dinner for Retiring Members of Congress Remarks at the White House Dinner.
If I could have your attention a minute. As I was standing in the receiving line with Rosalynn, looking into the faces of the great Members of Congress who are here tonight, I thought about my own campaign for the Congress back in 1966 after I had been State Senator for two terms. I almost had the race won when I changed my mind and ran for Governor. And I was just thinking, if I had only stayed in the congressional race- [laughter] —I'd be a seven-term veteran instead of just a freshman President. [Laughter] As a matter of fact, it has been a wonderful experience to be a freshman President. The only thing that I could think of that would be better would be a sophomore President— [laughter] —which we're working on now.
This is an election year, as you may have remembered. I know it's a very fine thing for you to be looking at the election with smiles on your faces and complete relaxation. I never have seen such a happy crowd, I think, at the White House. [Laughter] I've been enjoying the debate today. I watched the news before I came up, the debate between two major candidates on the China policy. [Laughter]
I know how bored you can get talking about politics when you're not involved in it yourself, and I don't want to bore you very long tonight, but this is a time of thanksgiving on my part as a President for what you've contributed to our country. It's an honor for me and Rosalynn to have you in the White House. You represent 500 years of service to our Nation, a tremendous contribution in human terms to giving life to a government.
Obviously this Capital City is beautiful. It's an exciting place to live. It's a challenging life in the interrelationship among Americans as concentrated here, not only in the Oval Office for me but at the Capitol for you, over a long period of time. I know some of the people at my table here have served for 16 terms, and this is a matter of great pride, not only to you individually and to your whole family but also to the family that you represented back in your States or in your districts.
The beauty of a capital or the beauty of even a capitol building is part of a democracy, of course, because it exemplifies that it belongs to the people. But the most important aspect is the one represented by you, and that is the human dimension, which truly gives a democracy its life. And you've given your lives, at least a portion of them, to public service, quite often without recognition, without credit for your tremendous accomplishments, with a great deal of criticism and sometimes castigation, sometimes disappointment, I know, sometimes a sense of frustration. But the holding together of the finest nation on Earth and its Government in the midst of the closest possible public scrutiny and to make steady progress, with an absence of partisanship as the Congress decides the major issues of the day and of the century, must be extremely gratifying to you it is to me to observe in your faces the finest elements of public service.
I believe that all of you leave here with a recognition that your lives have been meaningful so far, but, without exception, I know that you're looking forward to continuing an active life, capitalizing on the great experience that your own constituents have given you. It's a two way street, of course. Not only have you honored your district and your State, but you've been honored by being permitted to serve, as I'm being honored by being permitted to serve.
I know that in the future you'll watch our Government with the greatest attention, perhaps with a more quizzical expression, perhaps a little more critical attitude now that you'll be on the outside looking at us. And I hope that you'll give me the same kind of continued on-the-job training that you have done so well in providing for me the last 3 1/2 years. I know what a chore this has been for you. I know how dear you hold your other congressional peers, and I know you wouldn't want to put another chore like this on them in January of 1981. [Laughter]
So, in a nonpartisan way I would like to close by quoting a Democrat. I tried to find a quote that would exemplify your own comments in the future, and the best one I could find was when Harry Truman got back to his home city in 1953, after a distinguished career, as you know, in local government, as a United States Senator, as a Vice President, and then as President of our Nation.
One of the newsmen asked him—and I'll read it, to be accurate—if he would analyze his public career. Truman stood there frustrated, having had too many questions like this from the news people, and finally he replied, and I quote, "I did my damnedest, and that's all there is to say about it." [Laughter] And Truman turned around and walked away.
I think that statement is a good one, and I know that in addition to the superb achievements that you have contributed to our country, which gives you so much gratification, all of you have done your damnedest to make your own lives meaningful and to make our Nation the greatest nation on Earth. And because of that I thank you, on behalf of the American people, from the bottom of my heart. Thank you. God bless you all.
If you'll permit me, I'd like to offer a toast: To those Members of the Congress represented here, to all of your families, whom you have filled with pride, and to the people of our Nation, whom you have served so well. God bless you all.
Note: The President spoke at 7:25 p.m. in the State Dining Room at the White House.
Jimmy Carter, Dinner for Retiring Members of Congress Remarks at the White House Dinner. Online by Gerhard Peters and John T. Woolley, The American Presidency Project https://www.presidency.ucsb.edu/node/251934