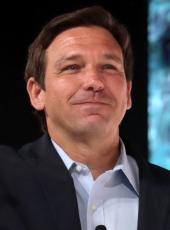 DeSantis Campaign Press Release - In the News: Des Moines Register: Ron DeSantis to bring Iowa endorsers to state fair in apparent dig at Donald Trump
"You know, people from Washington, that's not my cup of tea."
While Donald Trump's Iowa struggles are forcing him import support from Washington to the Iowa State Fair this weekend, the Des Moines Register reported this afternoon Governor Ron DeSantis will be joined at the event by 11 Iowa state legislators who have endorsed his candidacy. DeSantis' strong display of support from Iowans as he participates in Iowa Governor Kim Reynolds' Fair-Side Chat Saturday will come a day after he received the backing of 120 county-level chairs across the state and after Iowa kingmaker Steve Deace endorsed the governor Friday.
Read the full story by the Des Moines Register on DeSantis fair guests below.
Ron DeSantis to bring Iowa endorsers to state fair in apparent dig at Donald Trump
Brianne Pfannenstiel and Katie Akin
August 11, 2023
Florida Gov. Ron DeSantis will bring a gaggle of Iowa legislators with him to the Iowa State Fair Saturday — an apparent response to former President Donald Trump, who announced Wednesday he plans to travel with his own coterie of endorsers from Florida.
DeSantis will attend the fair with Iowa state Reps. Jon Dunwell, Dan Gehlbach, Bill Gustoff, Joshua Meggers, Henry Stone, Hans C. Wilz and Devon Wood, as well as state Sens. Adrian Dickey, Jesse Green, Amy Sinclair and Tom Shipley.
The announcement comes after Trump's campaign told the Des Moines Register the former president would attend the state fair with nine Florida Republican members of Congress who have endorsed him over DeSantis, a fellow Floridian.
Asked about Trump's plan while campaigning in Iowa Friday, DeSantis said he's proud to have "so many Iowa leaders supporting us."
"You know, people from Washington, that's not my cup of tea. I was there for three terms, I didn't drink the Kool-Aid. I've recovered from the experience," he told reporters outside of the American Legion in Harlan.
Iowa hosts the first presidential nominating contest of the Republican primary cycle, and in-state endorsers are highly coveted.
Conservative Iowa commentator Steve Deace formally endorsed DeSantis on Friday. And a slate of sheriffs and sheriff deputies previously endorsed his campaign.
"Our voters, I think across the country, they're not looking to Washington for leadership," DeSantis said. "They understand D.C. is failing. So I think what they want to see is people in their communities, how are those folks looking? And I think it's been very clear, whether it's sheriffs, whether it's members of the Iowa House, Iowa Senate, when they have to make a judgment about who the best nominee will be for the Republican Party, they're overwhelmingly choosing me."
DeSantis is scheduled to attend the Iowa State Fair Saturday, joining Iowa Gov. Kim Reynolds at her "fair-side chat" Q&A series with candidates. And Reynolds, U.S. Sen. Joni Ernst and U.S. Rep. Zach Nunn will join DeSantis to flip pork at the Pork Producers tent, his campaign said.
Trump is also set to attend the fair Saturday, though he hasn't released details of his plans.
DeSantis praised the Iowa legislators who have endorsed him, as well as Reynolds, who Trump recently criticized for or choosing to remain neutral in the 2024 Iowa caucuses rather than endorsing his candidacy.
"These are people who have delivered huge conservative victories for Iowa," he said. "When I came up here the first time with Gov. Reynolds before I was a candidate, people were saying, 'Iowa, man, they're doing a lot of good stuff. They're the Florida of the north.' And then I started looking at what they were doing, and I was like, 'Man, they're doing a lot. Maybe Florida is the Iowa of the south.'"
DeSantis said he's eager to bring his three children — aged 3, 5 and 6 years old — to the fairgrounds.
"We've taken our kids to Florida State Fair, a lot of stuff that we've had in Florida, and it's fun," he said. "But I think (Iowa) is kind of the granddaddy of them all."
Ron DeSantis, DeSantis Campaign Press Release - In the News: Des Moines Register: Ron DeSantis to bring Iowa endorsers to state fair in apparent dig at Donald Trump Online by Gerhard Peters and John T. Woolley, The American Presidency Project https://www.presidency.ucsb.edu/node/364175