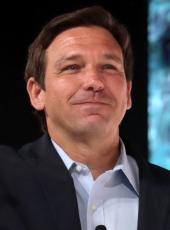 DeSantis Campaign Press Release - DeSantis Campaign Releases New Veteran Themed Ad Highlighting Ron DeSantis' Service to the Nation
"Ron DeSantis embodies service over self"
TALLAHASSEE, Fla. — The DeSantis campaign today released a new ad highlighting Ron DeSantis' service to the nation. DeSantis would be the first veteran to serve in a war to be elected president since 1988.
The ad comes on the heels of the detailed plan DeSantis released last month to restore America's military and make it mission-focused once again. DeSantis volunteered to join the Navy after graduating from Harvard Law School where he deployed in support of SEAL Team One as a JAG officer in Iraq and was awarded the Bronze Star.
Watch the video here.
Transcript:
When our country was under attack,Ron DeSantis fought back.He joined the Navy,Became a JAG Officer,Volunteered to serve in Iraq,Deployed with Navy Seal Team 1, and earned a bronze star.
Ron DeSantis embodies service over self.
And the father of three young children - he understands the importance of the fights ahead.... And why we must never back down.Ron DeSantis. The fighter we need as President.
Background:
DeSantis unveiled his "Mission First" Military policy in South Carolina in July.
DeSantis said then:"There was no greater honor than knowing I was wearing the cloth of my country when I served in the military, but our nation's once-proud fighting force has been infected and paralyzed by a political agenda. It is time to rip the woke out of the military and return it to its core mission. We must restore a sense of confidence, conviction, and patriotic duty to our institutions — and that begins with our military."
Read the plan here.
In his book, "The Courage to Be Free," DeSantis details how he volunteered to go to Iraq:"With no military draft, there was a strong demand for officers who could fill positions throughout the Iraq theater of operations. As the operational tempo was largely driven by the Army and the Marines, someone in my position as a naval officer would probably not have been involuntarily mobilized for forward deployment, but I wanted to serve, so I volunteers to fill a spot and deploy to Iraq."
He goes on to discuss his role more in depth:"To me, it is unacceptable to send someone wearing our nation's uniform to a combat zone with one hand tied behind his back. War is hell, and it puts the lives of our military personnel at risk if operations get mired in bureaucracy and red tape."
And lessons he learned from his time in Iraq:
"One thing that stuck with me with the burden of the post-9/11 operations feeling on such a small segment of our population. With an all-volunteer force, it was not uncommon to see soldiers and Marines on their third and fourth deployment. This had an enormous impact on these service members: it frequently led to family breakups, posttraumatic stress, and many other negative effects."
Ron DeSantis was a member of the United States Navy. Use of his military rank, job titles and photographs in uniform does not imply endorsement by the Department of the Navy or the Department of Defense.
Ron DeSantis, DeSantis Campaign Press Release - DeSantis Campaign Releases New Veteran Themed Ad Highlighting Ron DeSantis' Service to the Nation Online by Gerhard Peters and John T. Woolley, The American Presidency Project https://www.presidency.ucsb.edu/node/364210