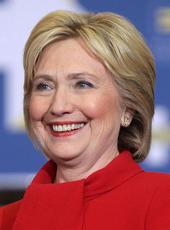 Clinton Web Video Draws Huge Online Response, Website Traffic Shatters Campaign Record
More than 500,000 Visit Site After Launch of "Sopranos" Web Video Announcing Online Song Contest Winner
More than half a million people flooded Hillary Clinton's campaign website yesterday, fueled by a popular online video announcing the winner of Clinton's campaign song contest. The number of visitors surpassed the previous campaign record set on the day Clinton announced her candidacy.
Clinton's latest web video features a send up of the "Sopranos" series finale, featuring Hillary and Bill Clinton in a diner discussing the possible winners of her online song competition. You can watch the video at www.hillaryclinton.com.
"We are excited by the tremendous response we've seen online for our song contest," said Clinton Campaign Internet Director Peter Daou. "Hillary has charted a fresh course online, using the Internet in creative ways to engage people and bring new voters into the process."
The online song competition was Clinton's latest groundbreaking effort on the Internet. Two web videos announcing the competition and the campaign song finalists drew over 1 million views on YouTube and the campaign's website. More than 200,000 votes were cast online and 25,000 wrote-in to suggest their own song choices.
Throughout the campaign, Clinton has engaged Americans in new and innovative ways. She launched her candidacy with an online announcement and held a series of live video web chats with voters across the country. Since then, she has launched a text messaging program to reach supporters on their mobile phones and posted HillCast web videos on a range of policy proposals. Hillary's online petitions on a phased withdrawal from Iraq, voting reform and her calls for Attorney General Alberto Gonzalez's resignation have drawn hundreds of thousands of signatures. And the campaign has launched www.HillaryHub.com to serve as a central repository for news, blogs and videos about Hillary's candidacy.
Hillary Clinton, Clinton Web Video Draws Huge Online Response, Website Traffic Shatters Campaign Record Online by Gerhard Peters and John T. Woolley, The American Presidency Project https://www.presidency.ucsb.edu/node/316185