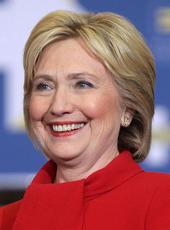 Clinton Announces "Green Building Fund" to Help States Reduce Energy Costs, Create "Green Jobs"
Portsmouth, NH - At the Seacoast Media Group's Presidential Forum focused on energy and the environment today, Senator Hillary Clinton announced that as part of her plan to address global warming, she would create a "Green Building Fund" (GBF). Through the fund, the federal government would allocate $1 billion annually to states to make grants or low-interest loans to improve energy efficiency in public buildings, such as schools, police stations, firehouses and offices. The GBF will create as many as 50,000 new "green collar" jobs.
"This is a moment of profound change and challenge for our nation," said Senator Clinton. "Energy efficiency is the cheapest, cleanest, fastest technology we have to cut energy use and reduce emissions. We'll invest $1 billion annually to help states improve energy efficiency in public buildings, cut pollution, combat climate change, and create 50,000 'green collar' jobs. If we do this right, it can be a win, win for our economy and our environment."
Hillary believes that global climate change is a looming crisis that we can turn into an opportunity if we start addressing it now. Today, buildings account for 40 percent of greenhouse gas emissions. The GBF could be used for energy efficiency upgrades at existing buildings, to cover the additional upfront costs of making new buildings energy efficient and to also make low-interest loans to small businesses for energy efficiency upgrades. To be eligible for funding, projects would need to meet tough energy efficiency standards, such as the EPA Energy Star standard for buildings.
"By promoting energy efficiency, we are increasing our energy independence and creating new jobs," said Clay Mitchell, Town Planner for the town of Epping, NH, which recently passed an ordinance requiring all commercial buildings to meet specific energy efficiency guidelines. Epping is the first town in New Hampshire to implement such an ordinance. "The Green Building Fund is exactly the sort of forward-thinking policy we have been seeking from our federal leadership and shows the sign of great hope."
The GBF would support actions that states and local governments are taking in New Hampshire and across the country to reduce greenhouse gas emissions from buildings. States could make funds available to localities from the GBF for projects to reduce greenhouse gas emissions from buildings. More than 600 mayors from 50 states, the District of Columbia and Puerto Rico, representing a total population of over 71,232,293 citizens, have signed the U.S. Mayors Climate Protection Agreement, which commits them to strive for a 7 percent reduction from 1990 levels by 2012. Here in New Hampshire, the mayors of Dover, Hanover, Keene, Manchester, Nashua, Portsmouth and Rochester have signed the agreement. During town meetings in March, residents in 60 percent of New Hampshire towns voted in favor of resolutions calling for a national program to reduce greenhouse gases.
Hillary Clinton, Clinton Announces "Green Building Fund" to Help States Reduce Energy Costs, Create "Green Jobs" Online by Gerhard Peters and John T. Woolley, The American Presidency Project https://www.presidency.ucsb.edu/node/316218