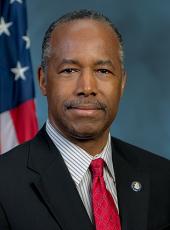 Carson Campaign Press Release - Dr. Ben Carson Continues to Call for Thorough Investigation of U.S. Muslim Group CAIR
Alexandria, Va. - January 14, 2016 - Dr. Carson, retired neurosurgeon and 2016 GOP presidential candidate, continues to call for the U.S. government to conduct a full investigation into the Council on American Islamic Relations (CAIR), a U.S. Muslim group. CAIR has extensive ties to foreign terrorist groups, such as Hamas and the Muslim Brotherhood, and was once named by federal prosecutors as an "unindicted co-conspirator" in a plot to facilitate terrorist financing. CAIR has repeatedly and openly expressed support for terrorism, disdain for the U.S. Constitution and a desire for America to be ruled under Sharia law. Three Muslim countries, the United Arab Emirates (UAE), Saudi Arabia and Egypt, have designated the Muslim Brotherhood and its affiliates, which include CAIR, as terrorist organizations.
"CAIR has long hidden behind a thin veil of advocacy, using political correctness to attack anyone who would expose their extremist roots," said Dr. Carson. "We can't let a fear of offending obscure domestic terrorists prevent us from subjecting CAIR to the full scrutiny of law enforcement. CAIR's ideals and activities do not represent the views of America's peace-loving and patriotic Muslim communities. We must investigate this organization immediately in order to safeguard the security of the American people."
Facts and Questions About CAIR:
CAIR and Domestic Terrorism: In the aftermath of the San Bernardino terrorist attack that left 14 dead and 31 wounded, many questions arose about the link between the attackers and local members of CAIR. Hussam Ayloush, head of CAIR's operations for Greater Los Angeles, has documented associations with Mustafa Kuko, the Director of the Islamic Center of Riverside, where the San Bernardino attackers worshipped. Yet instead of answering questions about how the terrorists became radicalized, CAIR has stood in the way of law enforcement's investigation, even at one point deflecting blame for the attacks onto U.S. foreign policy.
CAIR and Terrorist Financing: CAIR was established by individuals with known ties to terrorism. The Holy Land Foundation (HLF), shuttered in 2001 for its ties to the Muslim Brotherhood and efforts to facilitate terrorist financing, provided the seed money for CAIR. Court documents show that CAIR was named by federal prosecutors as "unindicted co-conspirators" of the HLF plot, but the Obama Justice Department has refused to bring charges against CAIR.
CAIR and Sharia Law: CAIR's terrorist links are merely the manifestation of its open desire to replace the U.S. Constitution with Sharia law. One of the most disturbing revelations of the HLF trial was the exposure of a Muslim Brotherhood document calling for "Civilizational Jihad" to eliminate and destroy Western civilization from within.
CAIR has echoed such calls throughout its history. Most notably, co-founder Omar Ahmad has decreed, "Islam isn't in America to be equal to any other faith, but to become dominant….The Koran, the Muslim book of scripture, should be the highest authority in America, and Islam the only accepted religion on earth."
CAIR Designated as a Terrorist Group: Already, other countries have decided that CAIR is an organization they do not want on their soil. Three of America's partners in the Middle East, the UAE, Saudi Arabia and Egypt, have designated the Muslim Brotherhood and its associates, which include CAIR, as terrorist organizations.
CAIR and Its Nonprofit Status: In addition to openly espousing terrorism and working with terrorist groups, CAIR has brazenly violated IRS regulations governing nonprofit organizations. It has previously lost its tax-exempt status by failing to file federal taxes three years in a row. Last year, it demanded that Dr. Carson withdraw as candidate for the 2016 presidential race, even though the IRS prohibits tax-exempt organizations to intervene in a political campaign on behalf of — or in opposition to — a candidate. America's taxpayers should not be subsidizing the political activities of any organization, let alone one with such close ties to terrorism and anti-american ideologies. The IRS should review CAIR's tax exempt status and remove it.
"The American people are rightly concerned about domestic support for terrorism," explained Dr. Carson. "After attacks like those in San Bernardino and Philadelphia, we need to examine every source of terrorism and extremism in America. CAIR has a history of extending support to Hamas and other radical Islamic terrorist groups, a history that they can't shield with claims of bigotry or political correctness. Instead of inviting CAIR members to attend the State of the Union, as some of our political leaders did earlier this week, we should be investigating their activities. We should also press the leaders of CAIR to explain their devotion to Sharia law and their eagerness to impose Islam on Americans. We cannot afford to remain wilfully blind to the threats posed by terrorist-affiliated groups in our own backyard. As president, I will fight terror aggressively, no matter how politically incorrect or difficult it may be."
Ben Carson, Carson Campaign Press Release - Dr. Ben Carson Continues to Call for Thorough Investigation of U.S. Muslim Group CAIR Online by Gerhard Peters and John T. Woolley, The American Presidency Project https://www.presidency.ucsb.edu/node/312636