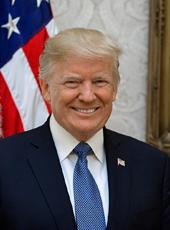 Campaign Press Release - Trump Urban Radio Ad Contrasts President Trump's Efforts to Uplift the Black Community with Joe Biden's Decades of False Promises
President Donald J. Trump's re-election campaign launched a new radio ad in urban markets featuring former professional football star Jack Brewer. In the ad, Brewer touts President Trump's record of uplifting the Black community through economic empowerment and contrasts that with Joe Biden's 47 years of empty promises. While Democrats have taken Black voters for granted, neglecting their communities while expecting unquestioned support, President Trump has worked to deliver school choice, criminal justice reform, and economic success. The urban radio ad is part of a multi-state buy in Minnesota, Wisconsin, Michigan, North Carolina, Georgia, Florida, and Pennsylvania.
"Joe Biden thinks he deserves Black voters' support, despite insulting them through racist remarks and delivering nothing to our community for 47 years," said Katrina Pierson, Trump 2020 Senior Advisor. "President Trump is the candidate of Promises Made, Promises Kept, and Black voters will support his record of economic empowerment for all Americans, regardless of background."
CLICK HERE TO LISTEN
Trump Radio Ad Script
Jack Brewer: I'm Jack Brewer. President Trump literally created the best job market and economy for Black Americans and Americans of all races, and I know he can do it again. Black Americans have heard promises from politicians forever. It's scary to think that Joe Biden wants to repeal President Trump's tax policies. These tax policies are the backbone of Opportunity Zones. Whenever you have the chance to go into a community that no one before wanted to invest in, that is huge for America. You're bringing opportunities. You're taking these dilapidated neighborhoods and actually uplifting them so that people can have a decent quality of life and be able to go and walk through a community that looks up to date and looks clean and new. That's America. We finally have someone that is passing policy. Donald Trump's America has already provided that opportunity. Donald Trump's America, we know what we're getting.
President Trump: I'm Donald Trump, Candidate for President, and I approve this message.
VO: Paid for by Donald J Trump for President Inc
Donald J. Trump, Campaign Press Release - Trump Urban Radio Ad Contrasts President Trump's Efforts to Uplift the Black Community with Joe Biden's Decades of False Promises Online by Gerhard Peters and John T. Woolley, The American Presidency Project https://www.presidency.ucsb.edu/node/343989