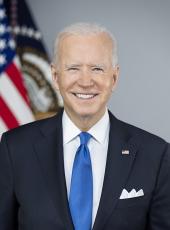 Campaign Press Release - ICYMI: Sierra Club Endorses Joe Biden for President
Today, the Sierra Club, America's largest and grassroots environmental organization, offered its endorsement of Joe Biden for President. Sierra Club Executive Director Michael Brune said that Biden "will be the champion for climate justice that America needs in the White House," stop Donald Trump's disastrous environmental policies, and lead a clean energy revolution and achieve environmental justice.
"The Sierra Club has spent more than 125 years pioneering a grassroots movement to protect our planet, fight for clean air and water, and ensure we build a sustainable future. It is an honor to have earned their support and to fight alongside their millions of members who will work to defeat Donald Trump and ensure we elect climate action leaders across the country," Vice President Biden said. "The ongoing public health and economic crisis has presented a new opportunity for our nation to come together and tackle the climate crisis, delivering the most transformative progress in decades and creating millions of good paying union jobs."
Sierra Club issued the following press release:

Sierra Club Endorses Joe Biden for President
Washington, DC -- Today, the Sierra Club endorsed former Vice President Joe Biden for President of the United States.
Along with its endorsement, the Sierra Club has launched the biggest grassroots political operation in the organization's 128-year history. The organization will mobilize its robust volunteer base to work tirelessly -- making millions of phone calls, sending millions of texts and letters, and more -- to elect Biden and climate champions up and down the ticket.
Sierra Club Executive Director Michael Brune released the following statement:
"We are confident that Joe Biden will be the champion for climate justice that America needs in the White House. As Americans head to the polls in November, our country will be facing crises on multiple fronts, including a climate emergency that disproportionately harms communities of color. This may be the most consequential election of our lives, and it is critical that we replace Donald Trump with a leader who understands the scale and urgency of the climate crisis and is ready to take bold action to solve it.
"No president has been worse for our environment or our nation's public health than Donald Trump. He has sold off our public lands to corporate polluters, waged unprecedented attacks on environmental protections, and prioritized the desires of fossil fuel company executives over the best interests of the American people at every turn. In contrast, Joe Biden has laid out a bold vision of safeguarding our air and water, transitioning to a clean energy economy, and investing in communities that for too long have been left behind and forced to deal with the pollution caused by our reliance on fossil fuels. These ambitious plans came as a result of listening to the calls of the climate justice movement, and we are committed to continuing to hold Biden accountable to making them a reality and evolving still further."
Joseph R. Biden, Campaign Press Release - ICYMI: Sierra Club Endorses Joe Biden for President Online by Gerhard Peters and John T. Woolley, The American Presidency Project https://www.presidency.ucsb.edu/node/345196