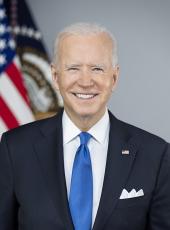 Campaign Press Release - ICYMI: Meena Harris and Chelsea Clinton Join Women for Biden on the Bring It HOMES Tour in Michigan
Last night, Meena Harris and Chelsea Clinton joined Women for Biden in Michigan for the second stop of the Bring It HOMES Tour, a three-stop virtual campaign swing through the Great Lakes states highlighting issues concerning women across the region, especially health care and the economy, and mobilizing women to help get out the vote.
This series began on Monday with a stop in the Lake Erie region, featuring a performance by singer and Ohio native Macy Gray and remarks from Jill Biden. Last night's event in Michigan featured Brandy Robinson, a Detroit native and Supervising Attorney at the Neighborhood Defenders Service of Detroit, Meena Harris, and Chelsea Clinton in a discussion of what's at stake for women and our nation in this election and concluded with a Women for Biden phone bank.

Click HERE to watch the conversation.
Brandy Robinson opened the event saying, "I have been a public defender for the vast majority of my 16 years as an attorney and during that time I've come to represent some of our nation's most vulnerable citizens...One of the reasons that I am passionate about voting for Joe Biden and Kamala Harris is because I understand the importance of federal policy for people who are accused of crimes… Joe Biden understands, a person with his level of power and influence, understands that mandatory minimums have no place in our federal sentencing -- that to me is huge and one of the main reasons why I think he and Kamala Harris are the better choice for President."
Robinson went on to speak about her mother's diagnosis with Multiple Sclerosis and how the Affordable Care Act has ensured she has access to affordable, quality health care saying, "People like Joe Biden and Kamala Harris understand my mother's plight. They understand her struggle. They understand that when the word 'preexisting condition' is said it's not an academic thing, it is not just a catchphrase that is to be used as a talking point. It really means something, and with Joe Biden and Kamala Harris I understand that my mother's pre-existing condition will not be a disqualifier for her receiving the quality medical care that she deserves."
Meena Harris and Chelsea Clinton discussed the multiple crises facing the nation, how women are shouldering the burden of the pandemic, and how the Biden-Harris ticket is prepared with real plans to lead the American people through difficult times with honesty, compassion, and strength.
"This is a hard time for so many people. People are suffering, people are in pain, and people are experiencing mental health issues," Harris said. "...We're experiencing so many crises at once, and we heard directly from Michigan women right from the start [of this pandemic] just how much of a burden [these crises] was and is putting on them. Women have lost their jobs or are working from home while taking care of their kids. Women have left their jobs in disproportionate numbers in order to take care of their kids because we've fallen back into some of those traditional gender care-taking roles and women are having to step into those roles in their households. Or women are on the frontlines of the pandemic. We know women of color are disproportionately front-lineworkers. So it's been so hard for so many people, and I think I speak for myself and for a lot of women, that we are just anxious for real leadership to actually lead, to care about people, to steer our country through all of these many crises that we are facing all at one time."
In talking about the Biden-Harris ticket's commitment to building back better, Harris said, "There's this conversation about getting back to normal and getting out of this mess, and obviously we need to do that, but what was normal before was not actually not working for a lot of people. This pandemic has really brought that to light. Knowing that our care economy is critical to our society. And that moms and parents and caregivers are critical to our economy...Having empathetic leadership in my Aunt Kamala and Joe and knowing that they will not only bring this country together and unify us and heal us, but that they will also have the expertise and policies and plans to actually build forward and build back better and take us into a much better future. "
Clinton highlighted the importance of honest leadership necessary to safely reopen our economy, workplaces, and schools, "We have to be honest about [the challenges we face] so we can minimize the darkness and so we can try to get through this as well as possible to save lives, to create as much possibility for a Biden-Harris Administration to do everything to give dignity and real support to the care economy, to give dignity and real paid family and medical leave to parents and caregivers."
Clinton agreed with Harris that the empathy and expertise of the Biden-Harris ticket will be critical to getting our nation through these crises effectively, but also noted, "it's also the sobriety and the honesty that we desperately need again from our leaders."
Harris closed the conversation with a call for every American to "step up" and take action and to show up for each other, "And it's the point that we have to show up for each other. It's not just about electing saviors and leaders who are going to save all of us, it's about wearing a mask because we know that that protects our communities and not just waiting for someone else to do that. Each one of us has to step up...Everything you do counts. There's a way that each of us can make every day, for the next 11 days, count."
Joseph R. Biden, Campaign Press Release - ICYMI: Meena Harris and Chelsea Clinton Join Women for Biden on the Bring It HOMES Tour in Michigan Online by Gerhard Peters and John T. Woolley, The American Presidency Project https://www.presidency.ucsb.edu/node/347084