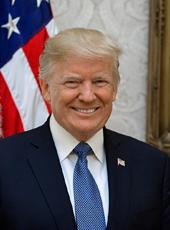 Campaign Press Release - FACT: Harris Supported the Terrible Iran Deal and Opposed Taking Out Iran's Top Terrorist
Harris won't keep Americans safe.
Kamala Harris doesn't know the first thing about keeping Americans safe. Her support for the failed Iran deal and opposition to killing Iran's top terrorist tells the American people all they need to know:
After President Trump ordered a strike taking out Qassam Soleimani, an Iranian terrorist with the blood of hundreds of American soldiers on his hands, Harris attacked President Trump.

Harris supported the terrible Iran nuclear deal, which gave billions of dollars to the largest state sponsor of terrorism, endangering American lives, and putting America's ally Israel at greater risk.
Just like Joe Biden, Harris would be weak against terrorism and America's enemies. Biden's failed foreign policy made the world more dangerous:
Biden called the disastrous Iran Nuclear Deal a "good deal" for the U.S., Israel, and our Arab allies even though the deal put Iran on the path to a nuclear weapon.

Biden secretly shipped Iran pallets of unmarked cash and let Iran get away with taking Americans hostage.

Biden said that President Trump's decision to eliminate Iranian terrorist Qasem Soleimani was a mistake that amounted to "tossing a stick of dynamite into a tinderbox." Biden's prediction did not come true.

After President Trump brought Soleimani to justice, Biden falsely claimed "we could be on the brink of a major conflict across the Middle East." Biden's prediction did not come true.

Biden said President Trump's decision to withdraw from the failed Iran deal would make war more likely. In fact, Iran is weaker and more isolated than ever, and President Trump is brokering historic peace deals between Israel and Arab countries in the region.
Now, President Trump is cleaning up Biden's Iran mess. In stark contrast to Biden's failures and Harris's disastrous agenda, President Trump's foreign policy strengthened America's national security, made Israel safer, advanced the cause of peace in the Middle East, and brought countries in the region together in opposition to Iran.
Donald J. Trump, Campaign Press Release - FACT: Harris Supported the Terrible Iran Deal and Opposed Taking Out Iran's Top Terrorist Online by Gerhard Peters and John T. Woolley, The American Presidency Project https://www.presidency.ucsb.edu/node/345685