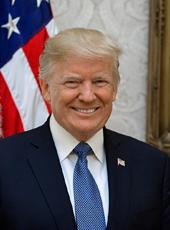 Campaign Press Release - Correct The Record: Fact-Checking Biden's Speech In Delaware
Yesterday, Biden spouted exaggerations, baseless claims, and outright lies
BIDEN: "We know [Trump] won't listen to the experts or treat [wildfires in the west] with the urgency it demands."
FACT: President Trump and his Administration have taken these wildfires seriously from the beginning, working closely with California, Oregon, and other western states since August to fight them
California Governor Gavin Newsom praised the Trump Administration's response saying, "there's not one phone call that I have made to the President where he hasn't quickly responded."
President Trump approved federal disaster declarations for California in August and Oregon last week to help them battle these fires

FEMA has approved 16 Fire Management Assistance Grants (FMAGs) for Oregon this fire season, with 14 approved in just the last week
President Trump has made 15 FMAGs available to California, 10 for Washington, and 3 for Colorado
These grants provide a 75 percent federal cost share for fighting and managing the fires

By August 23, more than 26,000 first responders and personnel were deployed to help fight fires in the West

Currently, more than 30,000 personnel and nearly 280 helicopters are deployed
233 soldiers from the Army's 14th Brigade Engineer Battalion have deployed to the August Complex fire in California
BIDEN: "There are thousands of oil and natural gas wells that oil companies and gas companies have abandoned, many of which are leaking toxins. We can create 250,000 jobs now by just plugging those wells right away — good union jobs for energy workers."
FACT: There is no independent estimate to support Biden's claim, with studies showing such a policy would create only 5 or 10 percent as many jobs as Biden says.
A study by Columbia University and Resources for the Future found that plugging "orphaned" wells in the U.S. would only create 13,500 jobs for just one year

The study found the average cost of creating each one of those jobs would be between $100,000 and $200,000

The left-wing Center for American Progress estimated that plugging abandoned wells would create at most 24,000 jobs, one-tenth of what Biden claims
BIDEN: "Meanwhile, Donald Trump warns that integration is threatening our suburbs. That's ridiculous."
FACT: This is false; President Trump has been warning about Joe Biden's plan to bring back a disastrous Obama-era housing rule that was "complicated, costly, and ineffective" and took zoning decisions out of the hands of cities.
The Obama Administration's Affirmatively Furthering Fair Housing (AFFH) rule sought to "radically reinvent local zoning laws", giving the federal government the ability to effectively re-engineer neighborhoods
The rule threatened to eliminate federal housing funding for cities unless they met massive federal mandates and burdens

The rule would result in more apartments and multi-unit housing being built in neighborhoods that are mostly single-family houses, hurting suburban homeowners

The Trump Administration has replaced the AFFH with a new rule that respects cities while also providing housing that is safe, affordable, and free from discrimination
BIDEN: "We'll also build 1.5 million new energy-efficient homes and public housing units ... reducing the racial wealth gap linked to home ownership."
FACT: Racial gaps in homeownership rates worsened or barely improved during the Obama Administration, but have gotten better under President Trump
Both the Black and Hispanic homeownership rates fell during the eight years Joe Biden was Vice President

The gap between the white and Black homeownership rates increased during Biden's eight years as Vice President
The gap between the white and Hispanic homeownership rates barely improved during that time
By 2016, the Black homeownership rate was near a 50-year low

Under President Trump, the gaps between the Asian American, Black, and Hispanic homeownership rates and the white homeownership rate have all fallen

Recently, the Hispanic homeownership reached a record high, and the Black homeownership rate increased to its highest level since 2008
BIDEN: "This is the same president who threw paper towels on the people of Puerto Rico instead of truly helping them recover and rebuild."
FACT: The Trump Administration has provided unprecedented aid and assistance to the people of Puerto Rico after Hurricanes Irma and Maria
Following Hurricanes Irma and Maria in 2017, President Trump visited Puerto Rico to pass out supplies, including paper towels, water, and food

As the White House pool reporter noted at the time, Puerto Ricans gathered at Calvary Chapel enjoyed the President tossing some paper towels into the crowd

More than $40 billion in federal disaster assistance has been allocated to Puerto Rico since Hurricane Maria hit, an unprecedented sum
Donald J. Trump, Campaign Press Release - Correct The Record: Fact-Checking Biden's Speech In Delaware Online by Gerhard Peters and John T. Woolley, The American Presidency Project https://www.presidency.ucsb.edu/node/343984