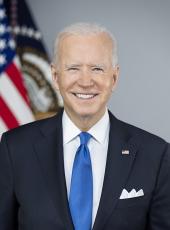 Campaign Press Release - Biden for President's Paid Media Blitz Floods the Airwaves and Digital
Campaign Releases Suite of New Ads Targeting Diverse Americans Across the Country
Today, Biden for President announced a suite of new ads on television and digital that flood the airwaves and social media platforms, targeting diverse American audiences across the country with messages emphasizing the most important to them this election. Running on national cable stations and in key battleground states, the new ads will target a combination of veterans and military families, Latino voters, older Americans, and Americans living in rural and manufacturing areas — adding to other paid media assets recently released geared towards younger Americans and African Americans.
"Laser Focused" is a :60 second ad spot airing across the country, highlighting Biden's commitment to building the economy back better for working families — reinvigorating America's economy by investing in innovation and infrastructure and creating five million new manufacturing jobs. The ad also highlights President Donald Trump's abject failure in handling the pandemic, ruining the economy, leaving millions unemployed.
"More Important" will air nationwide and also target Latinos and veterans in a :60 second spot. The ad spotlights a powerful testimonial from US Army Sergeant First ClassPaul Cruz (Ret.) where he talks about the ultimate sacrifice made by the men and women of our armed forces. SFC Cruz (Ret.) draws a stark contrast between Donald Trump – who reportedly called service members "suckers and losers" — and Joe Biden, a "unifier" who knows first-hand what it means to send a child off to war.
"Failed the American Farmer," an ad targeting rural markets, features a former Trump supporter and third-generation farmer from Lawrence County, PA named Rick. In the :60 second spot, Rick expresses regret for how he voted in 2016 after seeing how Trump has abandoned rural Americans and families like his. He touts his support for Joe Biden, as someone with both compassion and real plans to turn things around.
"American Grit," a :30 spot targeting manufacturing and union workers, reaffirms Joe Biden's long-standing commitment to creating jobs in America. "I don't buy for one second the vitality of American manufacturing is a thought of the past," Joe Biden says in the new ad, proposing a tax penalty on companies that offshore jobs and manufacturing, while rewarding companies for creating good-paying jobs at home.
"Clear Choice" will reach older Americans and highlights how Donald Trump's proposed plans would cut Medicare and Social Security. The :30 second spot features Biden's commitment to protecting Medicare and increasing Social Security benefits, two critical programs for American seniors.
The ads will air nationally on cable as well as television airwaves and digital platforms in a total of 16 states of where the campaign's paid media program is active in designated markets — including Arizona, Florida, Georgia, Iowa, Maine, Michigan, Minnesota, Nebraska, Nevada, New Hampshire, North Carolina, Ohio, Pennsylvania, Texas, Virginia, and Wisconsin.
Joseph R. Biden, Campaign Press Release - Biden for President's Paid Media Blitz Floods the Airwaves and Digital Online by Gerhard Peters and John T. Woolley, The American Presidency Project https://www.presidency.ucsb.edu/node/345175