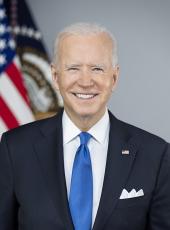 Campaign Press Release - Biden for President Launches Ads Targeting Asian American & Pacific Islander Voters
Today, Biden for President is launching a paid media campaign targeting Asian American and Pacific Islander (AAPI) communities, rolling out television, digital, radio, and print ads nationally and in key battleground states to engage persuadable voters, and mobilize members of the AAPI community in support of Joe Biden and Kamala Harris. The campaign will include targeted ads in local ethnic media, allowing the campaign to reach AAPI voters, especially those who the campaign may not be able to reach through traditional voter outreach efforts.
The paid media campaign will kick off with a 0:60 television ad titled "Stand Together," featuring an AAPI narrator underscoring the importance of returning to American values of kindness, compassion, empathy, community, tolerance, generosity, integrity and hope. The ad focuses on how Joe Biden and Kamala Harris can lead the country back to these values and build back better for the AAPI community. The paid campaign follows the historic Vice Presidential Debate, where Senator Kamala Harris, daughter of Indian and Jamaican immigrants, became the first Asian American to compete on a general election debate stage.
The television spot will be followed by digital, radio and print ads targeting specific AAPI constituencies in-language in key battleground states. These targeted ads will highlight issues of importance to AAPI communities and describe Joe Biden's commitment to ensure that every member of the AAPI community is treated with dignity—no matter their race or ethnicity—and has a fair shot at the American Dream.
The ads are produced by Potomac Waves Media, a women and minority-owned full service media production firm that focuses on reaching communities of color.
Courtni Pugh, Potomac Waves Media partner and Biden for President Senior Advisor for Paid Media said: "As an Asian American woman, I'm proud that the Biden-Harris campaign is making an historic outreach effort in the AAPI community and that the campaign chose Potomac Waves Media, a women and minority-owned specialty media firm."
The ads will air nationally on radio, digital and print platforms, as well as platforms in Arizona, Florida, Michigan, Minnesota, Nevada, North Carolina, Pennsylvania, Texas, Virginia, and Wisconsin. The campaign's paid media program is active in a total of 16 states — including the above states in addition to Georgia, Iowa, Maine, Nebraska, New Hampshire, and Ohio.
Biden for President is committed to building a broad coalition that is diverse and inclusive. The AAPI Coalition is made up of more than fourteen affinity groups, including AAPI Staffers for Biden, AAPI Veterans and Military Families for Biden, Chinese Americans for Biden, Filipino Americans for Biden, Hmong Americans for Biden, Japanese Americans for Biden, Korean Americans for Biden, Native Hawaiians and Pacific Islanders for Biden, Queer AAPIs for Biden, South Asians for Biden, Taiwanese Americans for Biden, Thai Americans for Biden, Vietnamese Americans for Biden, and Young AAPIs for Biden.
Joseph R. Biden, Campaign Press Release - Biden for President Launches Ads Targeting Asian American & Pacific Islander Voters Online by Gerhard Peters and John T. Woolley, The American Presidency Project https://www.presidency.ucsb.edu/node/345235