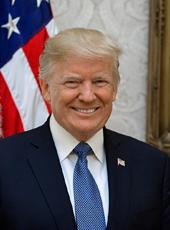 Campaign Press Release - 5 Must-Watch Moments from Real Americans
The second night of the Republican convention packed an impressive punch.
Americans tuning in to the second night of the Republican convention didn't see a former lobbyist for Russia, self-described socialists, or people talking about destroying capitalism and defunding the police.
Instead, they saw a party honoring America, and heard from real Americans – people who aren't part of the Washington political class and people who are better off today because of President Trump's leadership and accomplishments.
Here are 5 must-watch moments from real Americans at last night's Republican convention:
Bob Vlaisavljevich, a lifelong Democrat and the mayor of a Minnesota town, explained why he supports President Trump. "For far too long, members of both parties allowed our country to be ripped off by our trading partners, especially China," Vlaisavljevich said. "And what did so-called leaders like Joe Biden do? Nothing. The human cost has been devastating. We lost thousands of jobs, we lost a generation of young people who had to leave the Iron Range to find a livelihood. And worst of all, we lost hope."
"Then something unexpected happened. A straight-talking New Yorker burst onto the scene, promising to stand up to China and the rest of the world on behalf of the American worker," the mayor continued. "Four years later, the Iron Range is roaring back to life and we have one man to thank: President Donald Trump. He made good on his promises by cutting our taxes, rolling back senseless regulations, and delivering trade deals that put America's interests first. But the fight is not over... Biden is too weak, too scared, and too sleepy to stand up to the radical left. He has been doing nothing in Washington for 47 years. Why would year 48 be any different?"
Cris Peterson, a dairy farmer from Wisconsin, said, "As a businessman, President Trump understands that farming is a complicated, capital-intensive, and risky business. More than any president in my lifetime, he has acknowledged the importance of farmers and agriculture. That support and focus on negotiating new trade deals gave us the confidence to rebuild our barn and dairy operation. Business was booming again, and business boomed right until the COVID-19 shutdown in March."
"Many people probably don't realize that our country is one of the few in the world that produces nearly all of its own food. Fewer still understand how close our food production and distribution system came to collapsing this past spring," Peterson continued. "But President Trump understood, and again took steps to provide the support we needed. President Trump took the necessary action knowing that agriculture is our backbone and strength, critical to our national security. Our entire economy, and dairy farming, are once again roaring back. One person deserves the credit and our vote: President Donald J. Trump."
Jason Joyce, an eighth-generation lobster fisherman from Maine, said, "I have to confess: I didn't support Trump in 2016. Skeptical that he shared my conservative views, I expected him to flip-flop on his campaign promises. But he has followed through on his promises, including last week when he brokered a deal to end European Union tariffs of 8% on Maine live lobsters and up to 20% on Maine lobster products, which is great news for Maine's lobstermen and women."
"I live on an island with 370 residents, and lobstering is how we provide for our families," Joyce continued. "Four years ago, the Obama-Biden Administration used the Antiquities Act to order thousands of square miles of ocean off limits to commercial fishermen. They did it to cater to environmental activists... President Trump reversed that decision, reinstating the rules that allow stakeholder input, and he supports a process that seeks and respects fishermen's views. As long as Trump is president, fishing families like mine will have a voice. But if Biden wins, he'll be controlled by the environmental extremists who want to circumvent longstanding rules and impose radical changes that hurt our coastal communities. I strongly support President Trump's re-election. When he sees something isn't right, he's fearless in fixing it. He listens to working people."
Jon Ponder was convicted of robbing a bank and sent to prison. He gave his life to Christ and became a new person, founding an organization to minister to others and help them successfully re-enter society. President Trump gave Ponder a full pardon, describing his story as "a beautiful testament to the power of redemption."
"My hope for America is formerly incarcerated people will be afforded the opportunity to take advantage of the fact that we live in a nation of second chances," Ponder said. "My hope for America is that law enforcement and people in the communities across our country can come together and realize that as Americans we have more in common than we have differences. My hope for our great nation is to continue on this path that we're on of being the most prosperous country in the world."
John Peterson, the owner of Schuette Metals, a second generation metal fabrication business in Wisconsin, told his story. "Six years ago, we invested heavily in our business just as the great recession appeared. Barack Obama and Joe Biden -- two career politicians who know nothing about business -- couldn't get the government out of our way, and it put our business in a tailspin... We scratched and we clawed for two years and then everything changed. Donald Trump was elected president, and he knew what it was like to build a company and create jobs. One of the first things he did was to cut red tape and put an end to draconian type banking regulations. He also cut taxes on small businesses, allowing us to be more competitive both domestically and internationally. In fact, we increased revenues by 25 percent, for two years in a row."
"When I hear that Joe Biden is ready to raise taxes, crush us with regulations and weaken our international trade position, I shudder. We simply cannot endure a Biden-induced recession. Some will struggle, some will not survive. And working men and women of America will get crushed yet again," continued Peterson. "This is not time to hand our government over to a washed-up career politician who will be nothing but a puppet of the radical Left Democrats."
Americans who heard these stories were moved:
Donald J. Trump, Campaign Press Release - 5 Must-Watch Moments from Real Americans Online by Gerhard Peters and John T. Woolley, The American Presidency Project https://www.presidency.ucsb.edu/node/345610