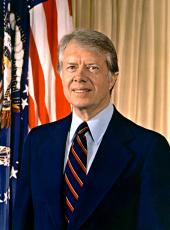 ACTS APPROVED BY THE PRESIDENT Week Ending Friday,
Approved July 28, 1978
H.R. 3489 .............Public Law 95-323 An act to amend section 216(b) of the Merchant Marine Act, 1936, to entitle the Delegates in Congress from the District of Columbia, Guam, and the Virgin Islands to make nominations for appointments to the Merchant Marine Academy, and for other purposes.
H.R. 4270 .............Public Law 95-324 An act to designate the Federal building and United States courthouse in Hato Rey, Puerto Rico, the "Federico Degetau Federal Building".
H.J. Res. 613 ....... Public Law 95-325 A joint resolution to authorize and request the President to issue a proclamation designating the first Sunday of September after Labor Day in 1978 as "National Grandparents Day".
H.R. 12637 ...........Public Law 95-326 An act to amend the North Pacific Fisheries Act of 1954.
S. 1291 ...............Public Law 95-327 An act to declare that certain lands of the United States situated in the State of Oklahoma are held by the United States in trust for the Cheyenne-Arapaho Tribes of Oklahoma, and to authorize the Secretary of the Interior to accept conveyance from the Cheyenne-Arapaho Tribes of Oklahoma of certain other lands in Oklahoma to be held in trust by the United States for such tribes.
S. 1582 ................ Public Law 95-328 An act relating to the settlement between the United States and the Ak-Chin Indian community of certain water right claims of such community against the United States.
S. 947 ................ Public Law 95-329 An act to declare certain federally owned land known as the Yardeka School land to be held in trust for the Creek Nation of Oklahoma.
Jimmy Carter, ACTS APPROVED BY THE PRESIDENT Week Ending Friday, Online by Gerhard Peters and John T. Woolley, The American Presidency Project https://www.presidency.ucsb.edu/node/248174